Open Air Shakespeare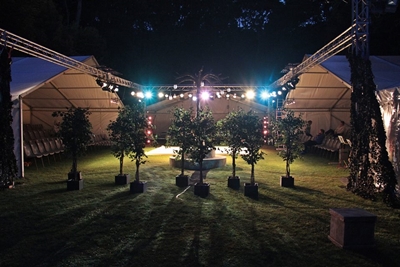 EODS produce an annual summer open air Shakespeare production. The production runs over 11 days (with a break on the middle Sunday) around the last week of July and the first week of August at Eastbourne's stunning Italian Gardens.
Whilst on site we build an entire open air theatre including large hospitality marquee, cast marquee and 3 x audience seating marquees which are open at the front and arranged in a "U" shape to provide a centre playing area and allowing the cast to address the entire audience.
In addition to this magical open air theatrical experience we also provide house lighting throughout the site, professional theatrical lighting rig on aluminium trussing, on-site toilets, tea, coffee, beer, wine, cold soft drinks and around 10-20 of our world(!) famous homemade cakes!
The performance typically starts at around 7.30PM with the first half in the glowing summer evening sun, setting by the interval and leaving the stage to come to life under the stage lighting for the second act. A truly magical experience which sells out annually and is not to be missed!
Got a question about our annual open air Shakespeare production? Check our our Frequently Asked Questions!
Shakespeare's timeless love story with a small part of Eastbourne transformed briefly into the hot streets of Verona.
Directed by award-winning Sandra Tomlinson, this was completely sold out, and very well received by the audience. It was helped by having glorious warm, sunny weather every day. The perfect evening out for all the family.